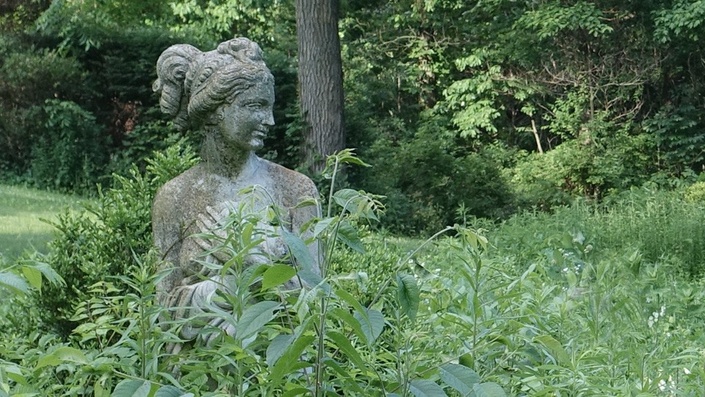 Secret Garden Tunnel Book
Secret Garden
Enticed by a coral bellied songbird teasing you to follow, darting here and there playing hide and seek as if he has held a secret for many years. He leads you down a winding path hidden by overgrown weeds and tall trees, begging for you to follow. As he jumps in and around a tangled vine, a flicker of light catches your attention. What was that? What can it be?
As you come closer, imagine finding a locked secret door. Would you go in? Are you curious? You find yourself peering through the tiny keyhole struggling to see inside. A thicket of greenery as far as the eye can see. A shimmer of light in the far distance. What's inside. Where's the key? Is curiosity calling out to you, taunting you inside?
Inside this mysterious hand painted tunnel book you will be surrounded by darkness reaching out to the light. Mystery, intrigue and greenery galore awaits you as each page dissolves into the next revealing its Secret Garden to you. Are you ready to open the door and create the world of wonder that begs for you to come inside?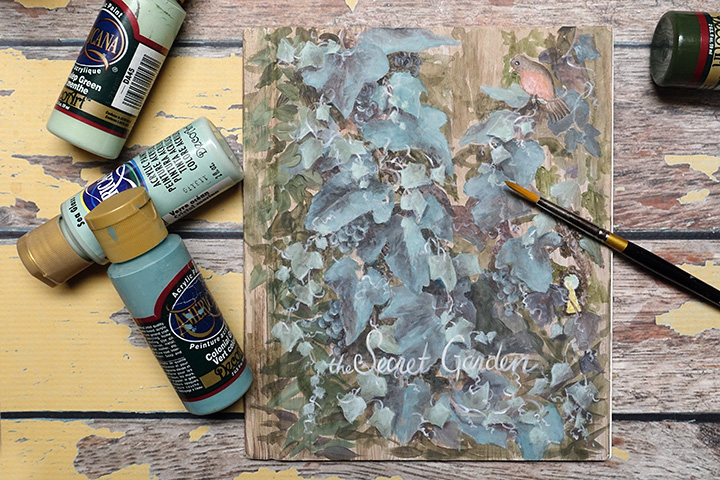 We start off creating the book from a children's Golden Book. Can you believe that? I know right, the fun is already starting! The PDF shows you all the information needed to cut, where to cut and so on. From there we add the mystery, those wonderful little tunnels. This is the part that totally captivates my muse, holds her there for another moment and then lets her continue on to the painting part.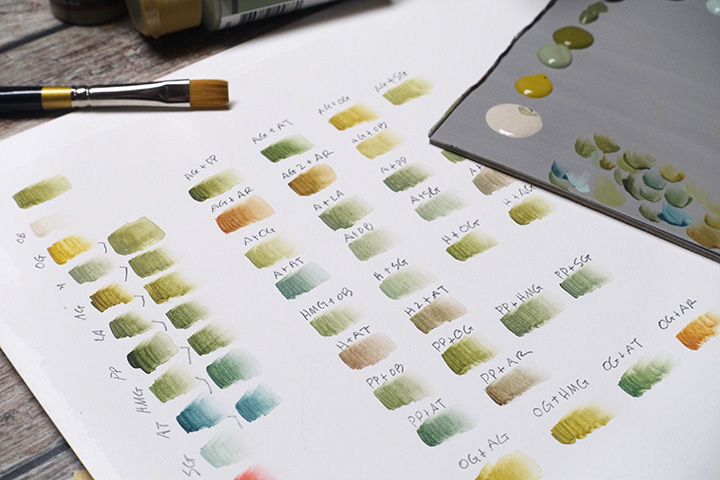 In painting, use what you have. You can mix any color from only a few tubes of paint, experiment until you find the one that works best. We will work one page at a time to make sure I don't leave out any detail for you.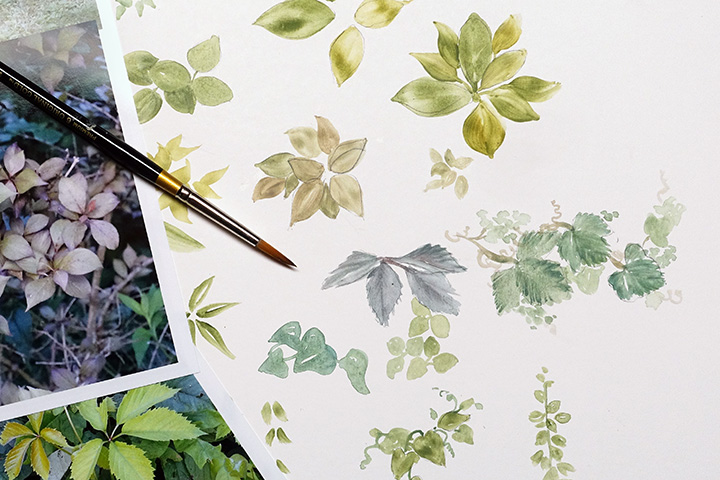 Leaf and flower practice studies ensure your technique is ready to create the Secret Garden within its pages. No special brushes are needed, I share quick and easy techniques to have you mastering each variety of leaves in a single lesson.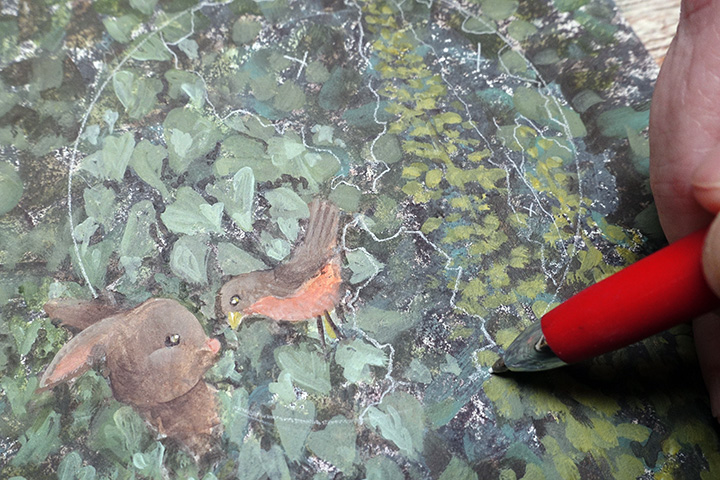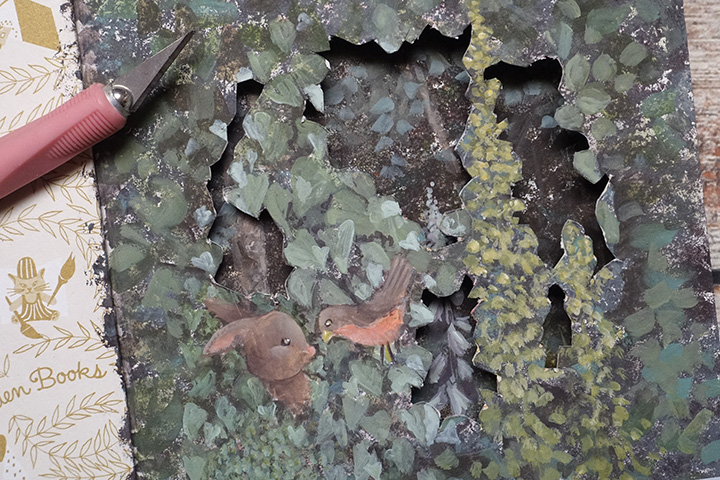 Techniques: Repurposing and creating the book. Telling a story by defining and cutting the tunnels. Building soft acrylic layers with washes of color. Achieving realistic details in a painterly style.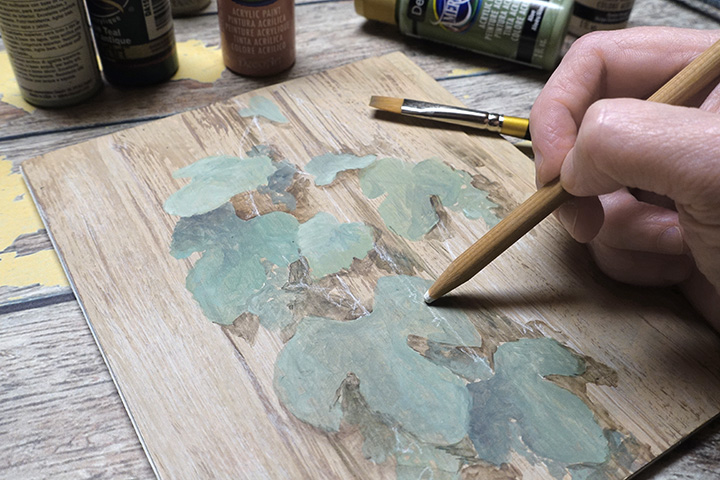 5+ hours of video plus a detailed PDF accompany this e-course.

Course starts August 23.
Meet the Teach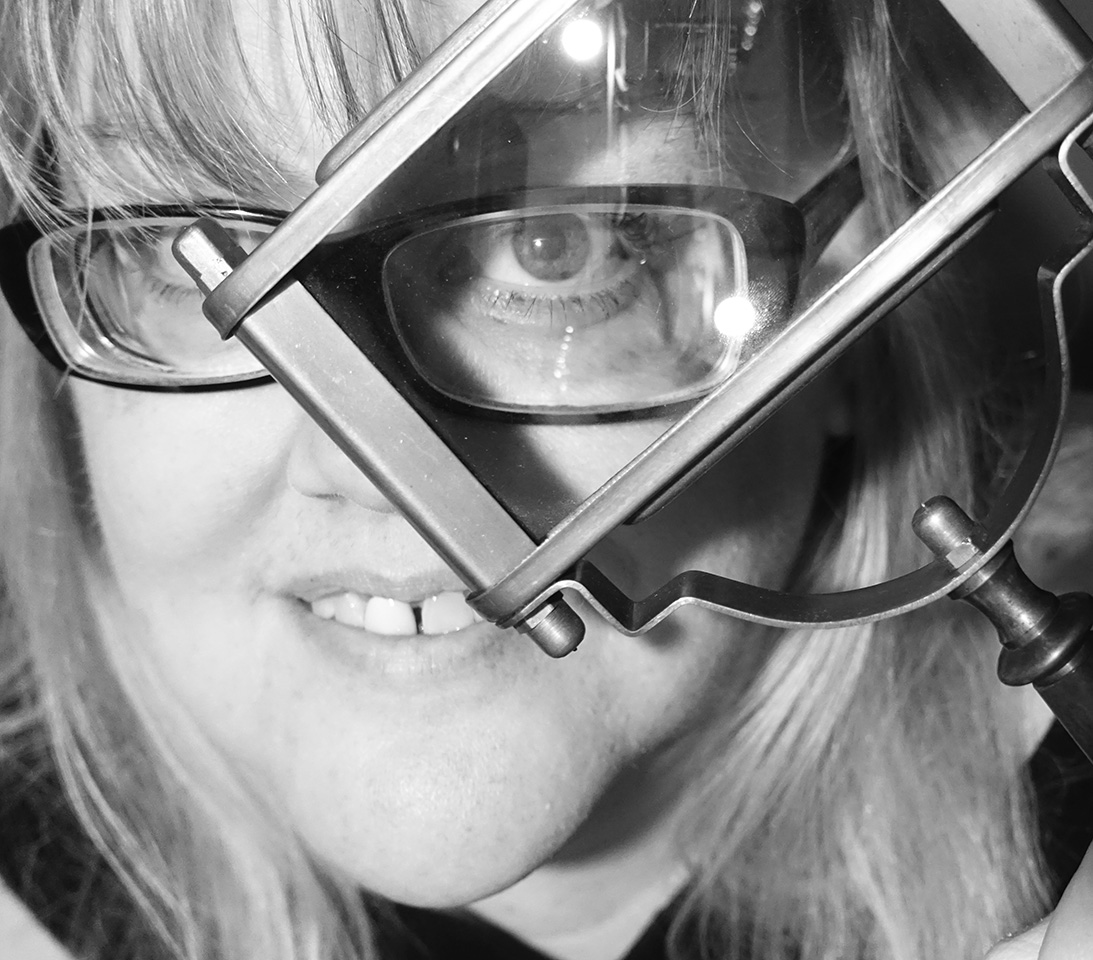 About Kelly Hoernig
I have been an artist my entire life. It started with that wondrous box of crayons and today it is still challenging me to grow, discover and explore anything that fascinates my creative side. I have been an artist full time for the past 22 years leading me through the adventure of designing patterns, books and magazine articles, as well as exhibiting and teaching throughout the United States. Online teaching has opened up a new International world, one I am excited to explore. Never one to stay idle for too long, I have pursued pen and ink, drawing, acrylics, colored pencils, mixed media, photography and writing. It has been a wonderful journey so far and I cannot wait to see what the muse throws my way next.
On finding inspiration?
For me it comes from everywhere. Nature mostly but it could be the way the light comes through a window, raindrops on a blade of grass or a bumble bee caught in the crab apple blossoms. Words also thrill me beyond belief. If I hear one I like, at the moment it is serendipity, I think about what it would look like in an art piece. Believe me, a dictionary and thesaurus are always close by.
Some things you might not know about me.
I have a very curious nature. Work best by moonlight. Create because I have to. Am inspired by the details. Chase the muse everywhere. Excited by nature. Love a challenge.
Frequently Asked Questions
When does the course start and finish?
The course starts August 23. I will be available in the fb group August 23-September 13 for questions, critiques and encouragement.
How long do I have access to the course?
How does lifetime access sound? After enrolling, you have unlimited access to this course for as long as you like - across any and all devices you own.
What if I am unhappy with the course?
We would never want you to be unhappy! If you are unsatisfied with your purchase, contact us in the first 30 days and we will give you a full refund.