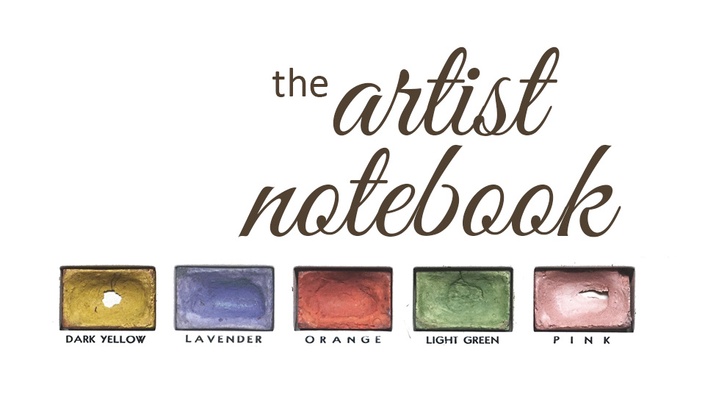 The Artist Notebook
IDEAS & CREATIVITY.
Have you ever had an idea but didn't know where to start?
Creating mood, telling stories and creating art around your ideas is exactly what we practice inside the Artist Notebook. The guided lessons inside are designed to explore and develop practices to bring your style and vision to your artwork.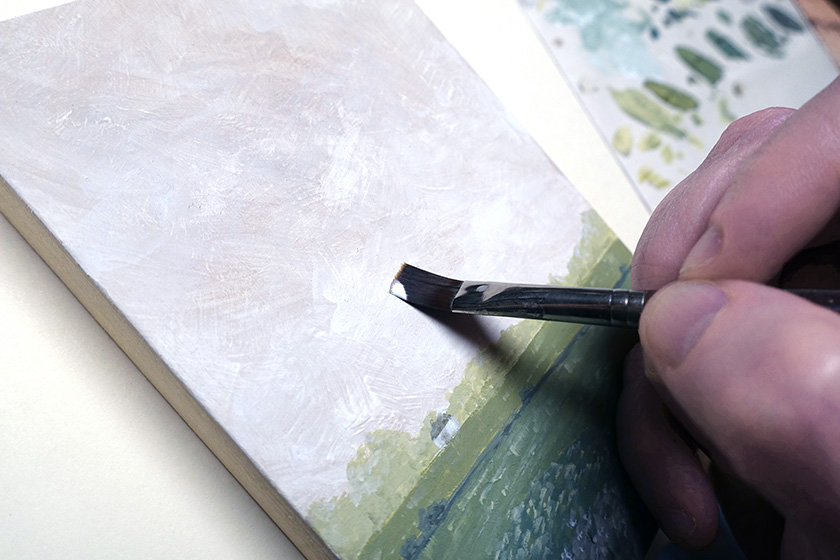 ON CREATING ART.
Ideas are powerful. Making a plan on how to bring them to life, exciting. Working continuously, fine tuning the idea slightly with each step. Making it happen in your art - priceless.
"Your calm, patient teaching style has taught me so much.
It stretched my comfort zone as well as my skill set,
thank you!" - Janice T.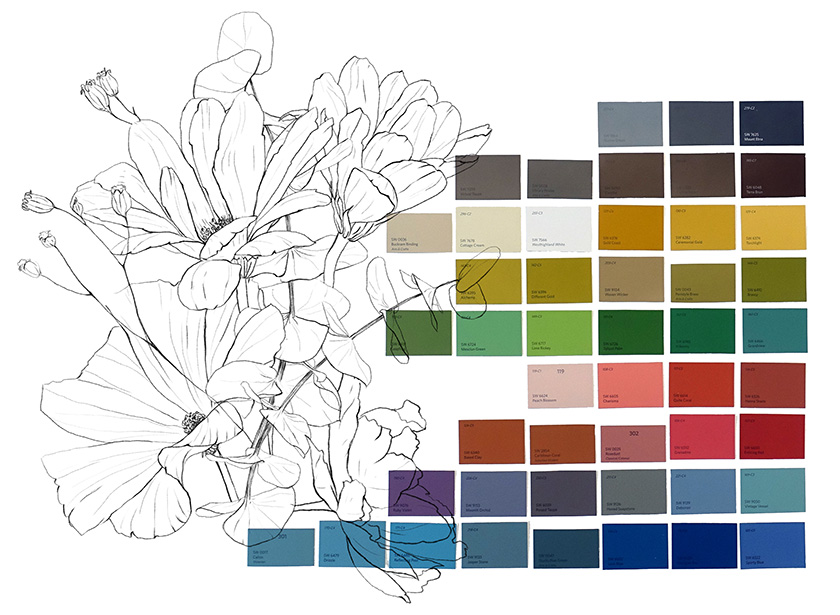 COLOR POSSIBILITIES.
The color chips above represent the palettes we have explored inside the Artist Notebook. Doesn't it look like fun? Come join us as we explore color wheels, color challenges and finding a palette that suits you and your style.
"Your lessons are so well explained with each step helping us
shift into the focal point that showcases us best!" - Angie K.
Inside The Artist Notebook you will receive
A simple prompt like "Nature" so you have a direction to design around. Follow the laid out path for slow and progressive growth, formulated to create a habit that you can repeat over and over. Each module includes carefully guided video content for the sections listed below totaling 3-5 hours per month.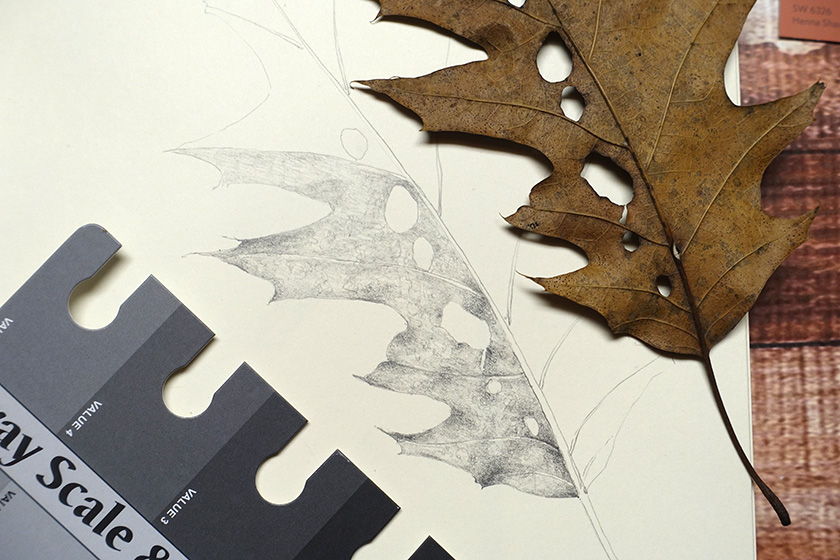 The art of black and white. Drawing practice and understanding values are two things that can instantly change your art. Each module we will strengthen our skills in drawing. Learn a new way to see as you grow your artistic abilities.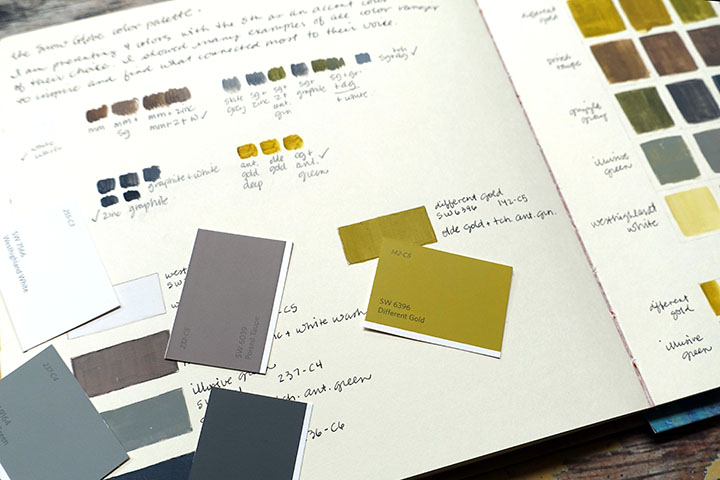 Color palette study. Learn to see color, tone and value and watch your art change. In every module a new color palette will be revealed. Learn to create new colors by combining hues, adding tints or shadow color, and exploring complementary colors. Now let's discover the possibilities within your palette so you better understand how to use the colors you've just created.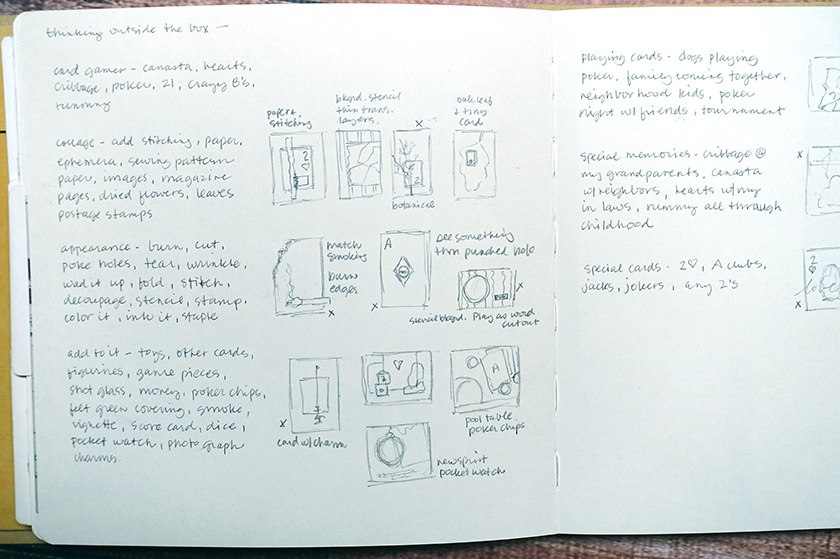 Thinking outside the box. Inspiration can happen anywhere and in many, many ways. Let's create art around a story, a quote, a song lyric, a piece of poetry, a photo - the possibilities are endless.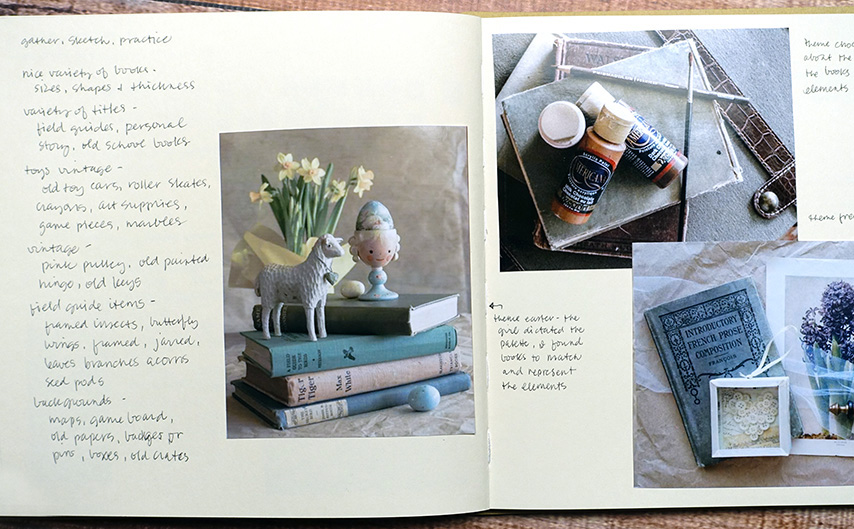 Gather sketch practice. We will find personal inspiration in our surroundings. Then explore using your elements to build a vignette as a reference. Using our color theme and drawing, we will put our practice into production using our sketchbook as the perfect surface to experiment.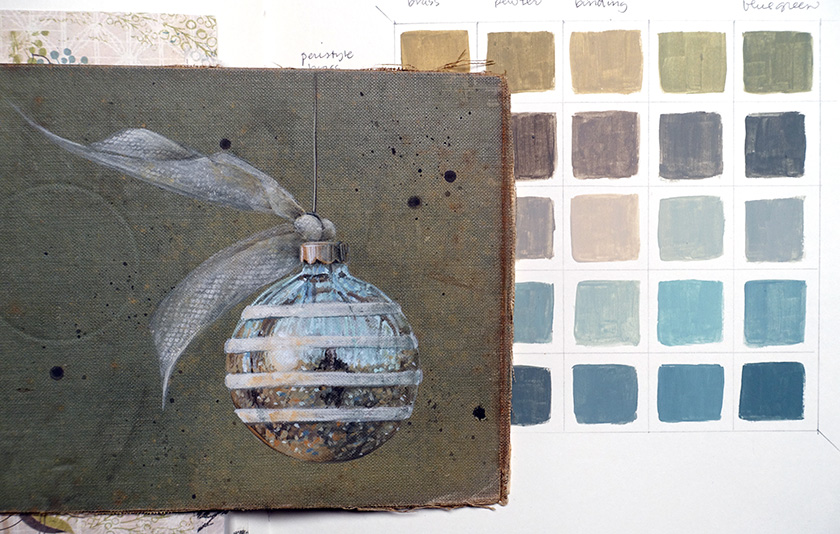 Sketchbook to easel. Gathering all we have practiced this month, let's get ready to move out of the sketchbook and onto the easel. We'll talk about design and composition while being inspired by our monthly theme and color palette. Ideas, inspiration and thumbnail sketches will help us work through our artistic thoughts as we delve into a creative photo shoot.
Onto the easel. Working through the photo session to design and create a final piece of art. Shape, size and color will play a part, are you ready?
"A challenging but brilliant lesson and a great opportunity to push myself while learning to see and respond in new ways!" - Susan N.
The Art Of studies. Learning from other artists is invaluable. Every third module, we will gather beneficial insights as we explore a new technique or study another artists style. We have studied Paper Collage, Abstract Art, Claude Monet, William Morris and so many more already.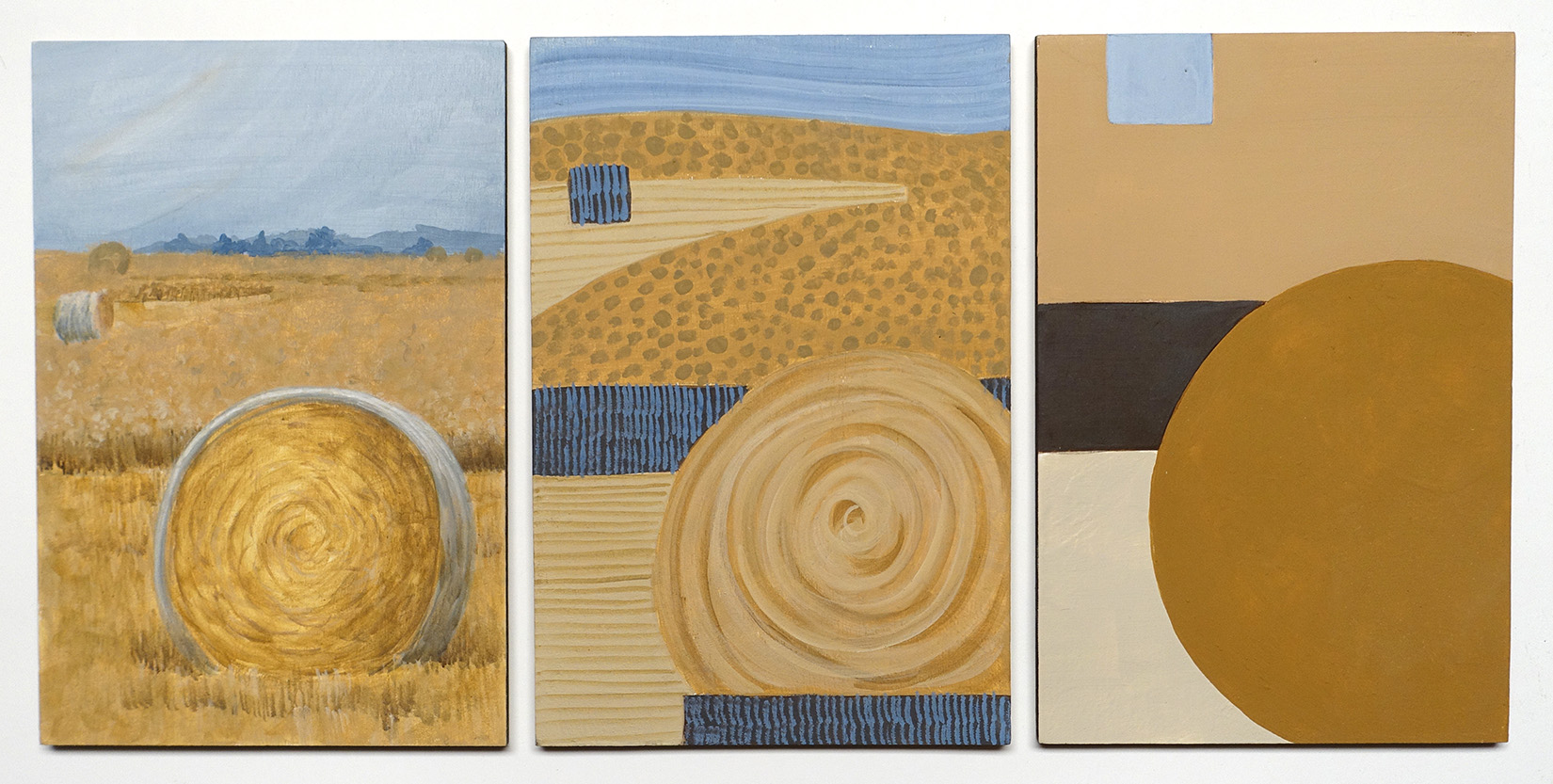 Enrollment. This course is now self-paced, no new lessons will be added.
" I just did the color section tonight. I have never really grasped hue, tone and value as much as I did with your lesson!" - Sharon D.
" I just want to say how much I LOVE
everything you are teaching!" - Sarah B.
"It's like art school for the cool crowd and
who doesn't want to be a part of that!" - Connie H.
Meet the Teach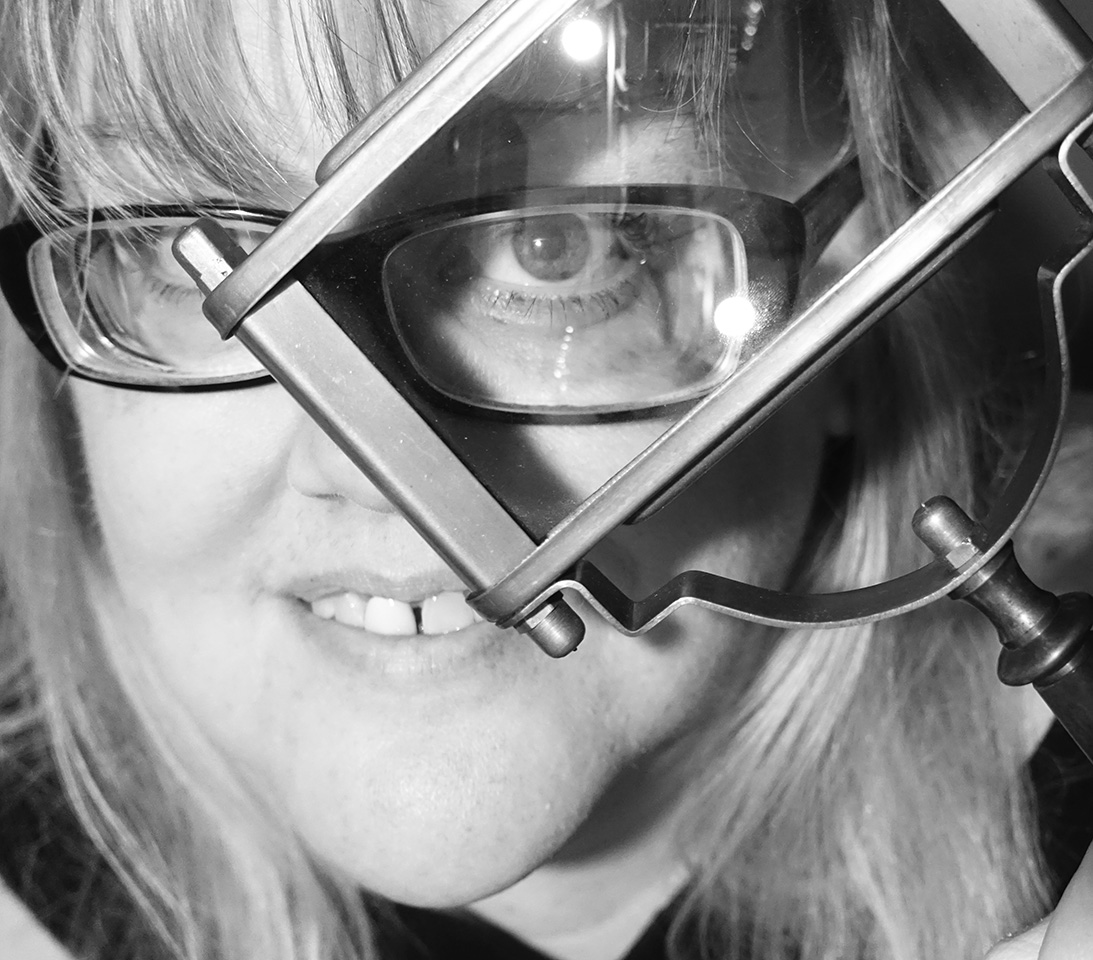 About Kelly Hoernig
I have been an artist my entire life. It started with that wondrous box of crayons, art school and today it is still challenging me to grow, discover and explore anything that fascinates my creative side. I have been an artist full time for the past 27 years and it has been a wonderful journey so far. I cannot wait to see what the muse throws my way next.
Some things you might not know about me.
I have a very curious nature. Work best by moonlight. Create because I have to. Am inspired by the details. Chase the muse everywhere. Excited by nature. Love a challenge.
Course Curriculum
Read this First
Available in days
days after you enroll
Email and Instagram
Available in days
days after you enroll
Welcome & Where to Start
Available in days
days after you enroll
Frequently Asked Questions
What if I am unhappy with the course?
Because this is a limited time offer on over 24 months of lessons, there are no refunds.
How is the Artist Notebook Membership delivered?
The Artist Notebook is held on an easy to use platform called Teachable. It is simple to navigate, download printables and watch videos. You can keep track of which lessons you've watched by marking a section "complete". You will have your own account with password that you have control over. Please make sure you have adequate internet speeds and your computer's compatibility is current.
How long do I have access to The Artist Notebook?
Lifetime Access.
This course is closed for enrollment.